Some cool china tooling make services images:
The Top 10 Ways to Improve Flickr


Image by Thomas Hawk
Recently my friend Bill Storage asked a question in DeletemeUncensored titled "What's Wrong With Flickr." The thread wasn't meant to complain about Flickr but to talk about how Flickr could be improved if one were starting from scratch. I wrote a couple of long responses out to Bill in the thread, but thought that some of the ideas really belonged in a longer-form blog post.
Alot of people give me crap for criticizing Flickr. They ask me why I use Flickr if "hate" it so much. The fact of the matter is that I don't hate Flickr at all. In fact I love Flickr (even if they don't love me anymore). I spend more time on Flickr than any other site on the web. I think Flickr represents the best place on the web for a photographer to share photos today and I think as a whole that Flickr is one of the cultural gems of our lifetime. What's more, a lot of the stuff on Flickr works really, really well and is really really great.
That said, I've always viewed criticism as a positive thing. As something that helps us improve and grow. Hopefully we learn from our critics and hopefully one can view suggestions as opportunities for improvement rather than simple mindless negativity. I blog alot about Flickr because I care about Flickr. I care about photography on the web. I care about the greater Flickr community and I want to see it get better and better. So don't see this list as a bitch list about Flickr, rather see it as some honest ways that Flickr can improve.
1. Improve the process on how account and group deletions are handled. Flickr is increasingly becoming known as a place that deletes accounts willy nilly without warning. Flickr's "Community Guidelines" are notoriously vague (you can be deleted without warning on Flickr for being "that guy" or if Flickr feels that you are "creepy.")
Many of my friends have had their entire accounts deleted for pretty minor offenses that are not specifically prohibited in more specific language in the TOS. In some cases photos with historical significance have been permanently lost. A while back Flickr nuked a group that I administered killing thousands of permanent threads. Thousands of threads by a group with thousands of members. Threads about cameras, workflows, photographic techniques, etc. Institutional knowledge stricken from the web forever.
Flickr really only should nuke accounts or groups as a matter of absolute last resort. They should try to work with their members (especially their long-term and paying members) if they find content that they object to. They should give members opportunities to take self-corrective action before just pulling the plug on their account. If they object to a single thread or a single image, they should just delete that image rather than nuking a user's entire account.
When Flickr nukes a group or an account it says to a user, "I don't respect you or your data." It creates an atmosphere of fear and uncertainty is bad for community.
At Flickr when they nuke your account it is also permanent and irrevocable. There is no undo button. Even if Flickr staff mistakenly deletes an account or if a hacker maliciously deletes your account, there is no getting that data back. It's gone forever.
Flickr could probably very easily create a system where deleted accounts are simply turned completely private and inaccessible from the web without actually removing all of the data. They could then give a user an opportunity to fix whatever they have a problem with in order to get their account turned back on. This would be a far better way of managing community than Flickr does at present.
2. Create a more robust blocking tool. Today at Flickr when you block someone, all it means is that they can't fave or comment on your photos. This is a very weak blocking system. If someone really wants to harass you blocking them does nothing. They can still comment on photos after you do so that their comments show up in your recent activity. They can still follow you around in groups and post things that you're forced to look at etc. Especially with cheap throw away troll accounts this creates unnecessary conflict on the site.
A few years back, over at FriendFeed, they developed a far more robust blocking system. When you block someone on FriendFeed they become entirely invisible to you. Not only can they not comment in your threads, anyplace else they post on the site is made invisible to you. They are wiped off the planet as far as you are concerned.
Now this would accomplish a few things at flickr. First it would give users far more control over eliminating anything that they found personally offensive or negative on the site. You don't like my paintings of nudes from a museum and don't like seeing them when you search for the de Young Museum? Fine. Then block me and you never see any of my content again. You don't like someone who uses language that you find offensive in a group post? Fine, block them as well.
Second though, this sort of tool would encourage more civil interaction between users. If a user creates a troll account and starts behaving badly. They are quickly blocked and become irrelevant. This encourages them not to troll creating a more positive experience for the rest of us.
Many of the personality clashes that occur on Flickr could be avoided if Flickr simply empowered the user to block more robustly.
3. SmartSets. Having to manually construct sets is an incredibly inefficient way to build and maintain your sets. That's why I use Jeremy Brooks' SuprSetr. It's probably the best third-party app ever built for Flickr. Flickr should hire Jeremy in fact as he's doing groundbreaking work here, but that's another topic.
Flickr should consider building SuprSetr technology directly into their Organize section. Let users build sets by keywords. It makes it much easier for users to build and maintain their sets. If I build a Las Vegas set for instance. In the future every single photo of mine keyworded Las Vegas, automatically gets added to this set when I run SuprSetr. Very slick.
4. Better Group thread management. At present Flickr has a very strong and robust Groups section. Here users can create groups (and there are probably literally millions of groups at this point) and talk about whatever they want and post photos into a pool. Games have been created around groups. Businesses have set up groups. Local communities have created their own groups. There are niche groups about anything and everything — from graffiti in South Florida to a specific neon sign in San Jose. Some groups have more robust discussion threads than others, but all offer this feature.
One of the problems with group threads on Flickr though is that you are constantly losing track of conversations that you are having because you have to manually go to each and every group to check the threads. If I post something in a group, but then don't remember to go back to that specific group and that specific thread, I have no way of knowing if someone has answered my question or commented after my thoughts or whatever.
Flickr should create a page that aggregates all of the group threads that you are participating in or have chosen to follow. This page would encompass all threads from all group in a nice aggregated section. This way if you posted a really important question in a group three months ago that someone has finally got around to answering, you will actually see it, the moment it is bumped to the top of your aggregator.
Flickr should also allow you to hide group threads. Both in your aggregator as well as in the more general group view. If I don't care about the latest Pentax camera (because I'm a Canon 5D M2 owner) I should be able to mute that thread in the group and never see it again. This would also help decrease negative trolling and bumping of threads on the site as offensive threads could just be hidden by a user if they didn't want to see it.
5. Kill explore and replace it with a recommendation system based on your contact's/friends photos. Flickr blacklisted me from Explore a while back after I wrote a negative blog post about actions that someone on their community management team had taken. They capped my photos in it at 666 (cute huh?). But this isn't why I don't like Explore. There's a whole thread called "So I Accidentally Clicked on Explore" in DMU devoted to crappy photos that end up in Explore. The problem with Explore is that it largely shows you photos that you are less interested in. Broad general popular photos of cliches. Sunsets and kittens as the saying goes.
If I choose to follow people on Flickr, I'm probably much more interested in their style of photography or them personally than I am images in Explore. Maybe I'm a graffiti writer and am most interested in graffiti photos. Maybe my thing is mannequins. Maybe I want to see photos of classic cars. Whatever. Instead of presenting the community what Flickr feels is the best of the whole community, show each member the best of their contacts each, day, week, month. I would be far more interested in the photos of people that I actually follow, like, know, etc. Maybe Aunt Edna's photo of her dog will never hit Flickr's explore. But it just might hit my own personalized explore and because I know Aunt Edna and she is my contact, it might be a much more rewarding experience for me to see than say another random dog shot from a user that I don't even know.
Flickr does have a page that shows your contacts most recent uploads, but this page is very limited and only shows the most recent 1 or 5 photos. There is also no way to filter it so that you see the photos that are faved/commented on the most and are likely to be the more interesting photos.
Get rid of Explore and replace it with something that is focused much more on your contacts than people you don't even know. A personalized Explore would be a far more interesting page.
6. Improve Group Search. I have no idea why Group Search sucks so badly on Flickr but it does. Frequently you will search for terms that you've posted in group thread conversations and Flickr will not return the thread where the word exists. I would think that Yahoo! should know a few things about search and am surprised that searching for threads in groups has been so spotty for so many years. I have no idea why this is so bad, but it shouldn't be.
7. Improve Data Portability. Flickr gives lipservice to data portability, but is not serious about it. As long as 99% of Flickr users can't or won't figure out how to move their photos easily to another site they are just fine with things. Functional lock in. The data that we put on Flickr is our data. It belongs to us. We are paying Flickr to hold it for us, but it belongs to us.
Recently my friend Adam wrote up a post on a help forum post about the language Flickr uses for encouraging people to buy Pro accounts. They said that they felt that Flickr is holding your photos hostage (beyond the 200 photo free limit) if you don't upgrade to Pro. Only Pro accounts have access to original images on Flickr.
Flickr should let any member get their photos out of Flickr at any time. Further they should offer competitors API keys to allow them to build service to service direct transfer applications to move your photos to another service if you want. If I don't want to renew my Pro account on Flickr and want to move my photos to Picasa, this should be as easy as me pressing a single button and having all of my photos transfer over.
Today it is very difficult and clunky to get your photos off of flickr. A few third party apps are available, but there are lots of problems with them. They fail if you have too many photos. They are only Windows based, etc. etc. Flickr has functional lock in and holds photos in a silo while talking about how they allow you to get your photos out of Flickr. Flickr should follow the lead of Google here and publicly both state and help make our data more portable. This ought to be part of being a good web citizen today.
8. Uncensor Singapore, Hong Kong, India, Korea, Germany and Maktoob.com. At present Flickr censors content to these places. It's still mind boggling to me that a photo of a painting that I took in the Art Institute of Chicago can't be seen by people in India. Trying to censor the world's web is messy business. Flickr/Yahoo should take a stand for freedom and uncensor these locations. Google last year took a bold step of choosing to walk about from China rather than censor results there. Yahoo should stand for freedom and stop censoring in these places.
9. Let people sell their photos for stock photography. Flickr missed the boat by giving away stock photography to Getty Images. Stock photography is probably the single easiest way for Yahoo to dramatically increase the profitability of Flickr. Getty Images represents a tiny fraction of the images available on Flickr. The Flickr/Getty deal was probably done as a defensive move by Getty more than anything to keep Yahoo out of the multi billion dollar market that is stock photography today. What resulted is that users get a paltry 20% payout for a very small number of their images that can be sold.
Flickr could be a far more formidable competitor to Getty. Flickr has the size and market share to dramatically disrupt this market. The stock photography marketplace is *far* more complicated than this. But oversimplifying things, Flickr should offer two collections for sale (if a user chooses to offer their photos for sale). Cleared photos and uncleared photos. Uncleared photos should pay more to the photographer than cleared photos. Cleared photos would be reviewed by a team of stock photography experts (Yahoo could even buy one of the smaller stock agencies that already has experience clearing images) and result in a lower payout to the photographer. By turning Flickr into the world's largest stock photography agency Yahoo could receive significant revenue from Flickr and Flickr photographers personally could benefit much more from posting their work there.
10. Build a better mobile app. The Yahoo built mobile app for Flickr sucks ass (sorry). As I understand it, it wasn't even developed by the Flickr team. Over at Quora former Flickr Engineer Kellan Elliott-McCrea answers the question, "Why did Flickr miss the mobile photo opportunity that Instagram and picplz are pursuing?" There is no compelling mobile Flickr experience today.
Recently, one of my favorite Flickr photographers, Michael Wilbur, deleted his entire Flickr account and is now one of the most popular photographers on Instagram. Flickr needs to develop a more compelling mobile experience. Part of this should be a very easy way to view group threads via mobile.
There you go. Food for thought. And keep on flickering.
delighting "me" always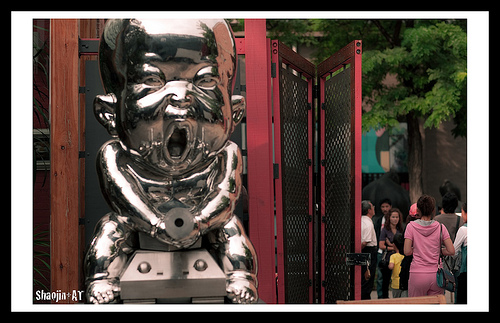 Image by Shaojin+AT
delighting "me" always
Picture: I suppose to focus my camera on the sculpture instead of on the pink lady. However, I was surprised when I got home with this result, my camera chosen to focus on pink lady! It is delighting me!!!
Canon, delighting you always…
Location: 798 Art Zone, Beijing. China
798 Art Zone (Chinese: 798艺术区; pinyin: 798 Yìshùqū), or Dashanzi Art District, is a part of Dashanzi in the Chaoyang District of Beijing that houses a thriving artistic community, among 50-year old decommissioned military factory buildings of unique architectural style. It is often compared with New York's Greenwich Village or SoHo.
The area is often called the 798 Art District or Factory 798 although technically, Factory #798 is only one of several structures within a complex formerly known as Joint Factory 718. The buildings are located inside alleys number 2 and 4 on Jiǔxiānqiáo Lù (酒仙桥路), south of the Dàshānziqiáo flyover (大山子桥).
Construction
798 Space gallery, Jan,2009. Old Maoist slogans are visible on the ceiling arches.
The Dashanzi factory complex began as an extension of the "Socialist Unification Plan" of military-industrial cooperation between the Soviet Union and the newly formed People's Republic of China. By 1951, 156 "joint factory" projects had been realized under that agreement, part of the Chinese government's first Five-Year Plan. However the People's Liberation Army still had a dire need of modern electronic components, which were produced in only two of the joint factories. The Russians were unwilling to undertake an additional project at the time, and suggested that the Chinese turn to East Germany from which much of the Soviet Union's electronics equipment was imported. So at the request of then-Premier Zhou Enlai, scientists and engineers joined the first Chinese trade delegation to East Germany in 1951, visiting a dozen factories. The project was greenlighted in early 1952 and a Chinese preparatory group was sent to East Berlin to prepare design plans. This project, which was to be the largest by East Germany in China, was then informally known as Project #157.
The architectural plans were left to the Germans, who chose a functional Bauhaus-influenced design over the more ornamental Soviet style, triggering the first of many disputes between the German and Russian consultants on the project. The plans, where form follows function, called for large indoor spaces designed to let the maximum amount of natural light into the workplace. Arch-supported sections of the ceiling would curve upwards then fall diagonally along the high slanted banks or windows; this pattern would be repeated several times in the larger rooms, giving the roof its characteristic sawtooth-like appearance. Despite Beijing's northern location, the windows were all to face north because the light from that direction would cast fewer shadows.
The chosen location was a 640,000 square metres area in Dashanzi, then a low-lying patch of farmland northeast of Beijing. The complex was to occupy 500,000 square metres, 370,000 of which were allocated to living quarters. It was officially named Joint Factory 718, following the Chinese government's method of naming military factories starting with the number 7. Fully funded by the Chinese side, the initial budget was enormous for the times: 9 million rubles or approximately 140 million RMB (US million) at today's rates; actual costs were 147 million RMB.
Ground was broken in April 1954. Construction was marked by disagreements between the Chinese, Soviet and German experts, which led at one point to a six-month postponement of the project. The Germans' harshest critic was the Russian technology consultant in charge of Beijing's two Soviet-built electronics factories (714 and 738), who was also head consultant of the Radio Industrial Office of the Second Ministry of Machine Building Industry. The disputes generally revolved around the Germans' high but expensive quality standards for buildings and machines, which were called "over-engineering" by the Russians. Among such points of contention was the Germans' insistence, historical seismic data in hand, that the buildings be built to withstand earthquakes of magnitude 8 on the Richter scale, whereas the Chinese and Russians wanted to settle for 7. Communications expert Wang Zheng, head of Communications Industry in the Chinese Ministry of National Defense and supporter the East German bid from the start, ruled in favor of the Germans for this particular factory.
At the height of the construction effort, more than 100 East German foreign experts worked on the project. The resources of as many as 22 of their factories supplied the construction; at the same time, supply delays were caused by the Soviet Red Army's tremendous drain on East Germany's industrial production. The equipment was transported directly through the Soviet Union via the Trans-Siberian railway, and a 15 km track of railroad between Beijing Railway Station and Dongjiao Station was built especially to service the factory. Caltech-educated scientist Dr. Luo Peilin (罗沛霖), formerly head of the preparatory group in 1951-1953, was Head Engineer of Joint Factory 718 during its construction phase. Dr. Luo, now retired in Beijing, is remembered by his former colleagues as a dedicated perfectionist whose commitment to the obstacle-strewn project was a major factor of its eventual success.
[edit]Operation
Joint Factory 718 began production in 1957, amid a grandiose opening ceremony and display of Communist brotherhood between China and East Germany, attended by high officials of both countries. The first director was Li Rui (李瑞), who had been involved in the early negotiations in Berlin.
The factory quickly established a reputation for itself as one of the best in China. Through its several danwei or "work units", it offered considerable social benefits to its 10,000-20,000 workers, especially considering the relative poverty of the country during such periods as the Great Leap Forward. The factory boasted, among others:
the best housing available to workers in Beijing, providing fully furnished rooms to whole families for less than 1/30 of the workers' income;
diverse extracurricular activities such as social and sporting events, dancing, swimming, and training classes;
its own athletics, soccer, basketball and volleyball teams for men and women, ranked among the best in inter-factory competitions;
a brigade of German-made motorcycles, performing races and stunt demonstrations;
an orchestra that played not only revolutionary hymns, but also German-influenced classical Western music;
literary clubs and publications, and a library furnished with Chinese and foreign (German) books;
Jiuxianqiao hospital, featuring German equipment and offering the most advanced dental facilities in China.
The factory even had its own volunteer military reserves or jinweishi (近卫师), which numbered hundreds and were equipped with large-scale weapons and anti-aircraft guns.
Workers' skills were honed by frequent personnel exchanges, internships and training in cooperation with East Germany. Different incentives kept motivation high, such as rewards systems and "model worker" distinctions. At the same time, political activities such as Maoism study workshops kept the workers in line with Communist Party of China doctrine. During the Cultural revolution, propaganda slogans for Mao Zedong Thought were painted on the ceiling arches in bright red characters (where they remain today at the latter tenants' request).
Frequent VIP visits contributed to the festive atmosphere. Notable guests included Deng Xiaoping, Jiang Zemin, Liu Shaoqi, Zhu De, and Kim Il-Sung.
The Joint Factory produced a wide variety of military and civilian equipment. Civilian production included acoustic equipment for Beijing's Workers' Stadium and Great Hall of the People, as well as all the loudspeakers on Tiananmen Square and Chang'an Avenue. Military components were also exported to China's Communist allies, and helped establish North Korea's wireless electronics industry.
One of the old machine tools in front of some contemporary art in Dec 2005
After 10 years of operation, Joint Factory 718 was split into more manageable components, such as sub-Factories 706, 707, 751, 761, 797 and 798. The first Head of sub-Factory 798 (the largest) was Branch Party Secretary Fu Ke (傅克), who played a major role in recruiting skilled workers from southern China and among returned overseas Chinese.
However, the factory came under pressure during Deng Xiaoping's reforms of the 1980s. Deprived of governmental support like many state-owned enterprises, it underwent a gradual decline and was eventually rendered obsolete. By the late 1980s and early 1990s, most sub-factories had ceased production, 60% of the workers had been laid off, and the remains of the management were reconstituted as a real-estate operation called "Seven-Star Huadian Science and Technology Group", charged with overseeing the industrial park and finding tenants for the abandoned buildings.
[edit]
The Dashanzi factory complex was vacated at around the time when most of Beijing's contemporary artist community was looking for a new home. Avant-garde art being frowned upon by the government, the community had traditionally existed on the fringes of the city. From 1984 to 1993, they worked in run-down houses near the Old Summer Palace (Yuanmingyuan) in northwestern Beijing, until their eviction. They had then moved to the eastern Tongxian County (now Tongzhou District), more than an hour's drive from the city center.
Then in 1995, Beijing's Central Academy of Fine Arts (CAFA), looking for cheap, ample workshop space away from downtown, set up in the now defunct Factory 706. The temporary move became permanent and in 2000 Sui Jianguo(隋建国), Dean of the Department of Sculpture, located his own studio in the area. The cluttered sculpture workshops have always remained open for visitors to peek at the dozens of workers milling about.
In 2001, Texan Robert Bernell moved his Timezone 8 Art Books bookshop and publishing office (founded in 1997) into a former factory canteen; he was the first foreigner to move in. One of Timezone 8's early employees was fashion designer Xiao Li, who along her husband, performance artist Cang Xin, helped artists secure and rent spaces in the area.
Through word-of-mouth, artists and designers started trickling in, attracted to the vast cathedral-like spaces. Despite the lack of any conscious aesthetic in the Bauhaus-inspired style, which grounded architectural beauty in practical, industrial function, the swooping arcs and soaring chimneys had an uplifting effect on modern eyes, a sort of post-industrial chic. At the artists' requests, workers renovating the spaces preserved the prominent Maoist slogans on the arches, adding a touch of ironic "Mao kitsch" to the place.
Later that year, Mr. Tabata Yukihito from Japan's Tokyo Gallery set up Beijing Tokyo Art Projects (BTAP, 北京东京艺术工程) inside a 400-m² division of Factory 798's main area; this was the first renovated space featuring the high arched ceilings that would become synonymous with the Art District. BTAP's 2002 opening exhibition "Beijing Afloat" (curator: Feng Boyi), drew a crowd of over 1,000 people and marked the beginning of the popular infatuation with the area.
In 2002, designer artist Huang Rui (黄锐) and hutong photographer Xu Yong (徐勇) set up the 798 Space gallery (时态空间) next to BTAP. With its cavernous 1200-m² floor and multiple-arched ceilings at the center of Factory 798, it was and still is the symbolic center of the whole district. (Huang and Xu since designed at least seven spaces in the area and became the prime movers and de facto spokespersons of the District.) A glass-fronted café was set up in the former office section at the back of the 798 space, opening into a back alley now lined with studios and restaurants such as Huang's own At Café, and Cang Xin's #6 Sichuan restaurant, the area's "canteen".
In 2003, Lu Jie (卢杰) set up the Long March Foundation, an ongoing project for artistic re-interpretation of the historical Long March, inside the 25,000 Li Cultural Transmission Center (二万五千里文化传播中心). Around that time, Singapore-owned China Art Seasons (北京季节画廊) opened for display for pan-Asian art, and was one of several new galleries setting up at that time.
Source from: en.wikipedia.org/wiki/798_Art_Zone